---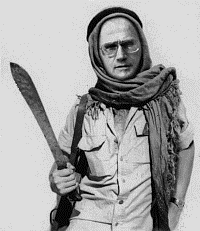 "Béla Bollobás revives an
ancient proof technique"
Béla Bollobás has both a Ph.D. and a D.Sc. from Cambridge University, a Dr.Rer.Nat. from Budapest, and an Erdos Number of 1. Much more can be found about him from the web, but I think the picture and accompanying caption sum it up admirably. The original can be found at:
---
See also Paul Erdos, Ron Graham, Colin Wright
---
Contents

There were no headings
in the main text so there
is no table of contents.

Links on this page

Site hosted by Colin and Rachel Wright:

Maths, Design, Juggling, Computing,
Embroidery, Proof-reading,
and other clever stuff.
---

Suggest a change ( <-- What does this mean?) / Send me email
Front Page / All pages by date / Site overview / Top of page