---
Steve is becoming increasingly well established as an artist and tutor in art, and is based in the North-West of England. She attends courses and master classes given by other artists, as well as giving classes and workshops in the Chester area.

She primarily works in oils, but she is accomplished in watercolours, pastels, acrylics and gouache. She also accepts commissions.

Her most recent exhibition is online at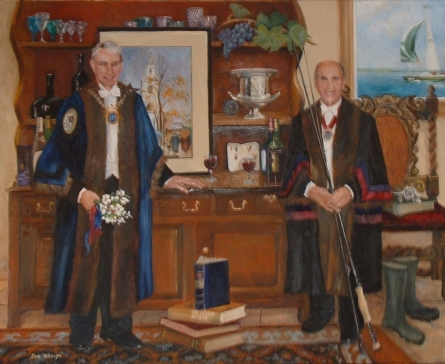 "The Liverymen"
ala "The Ambassadors"

This large canvas was inspired by Holbein's "The Ambassadors". It depicts two senior officers of the Worshipful Company of Glass Sellers of the City of London - http://www.glass-sellers.co.uk/ - surrounded by items referring to their interests, enthusiasms and careers.

It was presented to the Livery on May 8, 2005, following the Summer Service at St James Garlickhythe. A copy of Steve's booklet about the development of the painting is now in the Livery archives, and the picture itself is now owned by Past Master Martin Everett.

Steve is now writing up the story of the painting on her blog:
---
Steve is Rachel Wright 's mother - don't ask why she's called "Steve"!
---
Contents

There were no headings
in the main text so there
is no table of contents.

Links on this page

Site hosted by Colin and Rachel Wright:

Maths, Design, Juggling, Computing,
Embroidery, Proof-reading,
and other clever stuff.
---

Suggest a change ( <-- What does this mean?) / Send me email
Front Page / All pages by date / Site overview / Top of page