---
Who?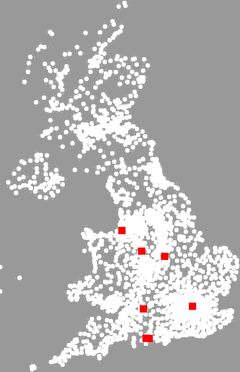 Ben Sparks' talk locations.
Larger dots mean sooner,
red dots are already past.
A maths teacher by training, Ben has previously passed the time by juggling (and lobbing diabolos really really high), playing his guitar and singing round the world, trying to design a piece of radar recognition software that learns on the job, and growing his hair/beard.
Ben gives talks to a wide range of audiences: ranging from workshops for 12 year olds to teachers conferences, and pretty much anything in between. Recent talk titles:
Creation Of Number
Rumours of Other Worlds
The Sacred Geometry Of Chance
Mathematical Magic.
He has a website at http://www.bensparks.co.uk and he can be contacted on benjamin.sparks[at]gmail.com
Ben is one of the Other Speakers I can recommend.
Where?
Based in Dorset in the south of England.

The map at right shows the rough locations of some of Ben's upcoming talks, but it doesn't give much indication of when. The list gives exact dates, and the "map" at the bottom of this page gives the details in a different way.

You need to check his home page for details: http://www.bensparks.co.uk
---
From now going forwards ...
Here is a simple list of talks. The postcodes are often approximate and should not be relied on. Their locations are for indication only.
Date
Title
Event/Location
District
2013-11-01
NCETM Professional Development Leads Event
WC1H
2013-11-02
5 min talks
Maths Jam Annual Conference
ST15
---
Talks in Space-Time ...
This "map", provided you can read it, shows both when and where these talks will be. See if you can work it out.
---
Selected past talks ...
| | | | |
| --- | --- | --- | --- |
| Date | Title | Event/Location | District |
| 2008-06-25 | Creation Of Number | TMF - The Lighthouse - Poole | BH17 |
| 2007-06-?? | Inventing Imaginary Number | TMF - Bournemouth University | BH1 |
| 2009-06-24 | Creation Of Number | Take Maths Further - Poole | BH17 |
| 2011-03-21 | Creation Of Number | Abbeyfield School | SN15 |
| 2011-04-15 | Rumours of Other Worlds | MA Conference | LE11 |
| 2011-06-29 | Sacred Geometry of Chance | Take Maths Further | BH17 |
| 2013-10-21 | Further Pure Maths Day | Bournemouth School for Boys | BH8 |
| 2013-10-20 | Creation Of Number | Liverpool Maths Society | L69 |
There are many more.
---
Contents

Links on this page

Site hosted by Colin and Rachel Wright:

Maths, Design, Juggling, Computing,
Embroidery, Proof-reading,
and other clever stuff.
---

Suggest a change ( <-- What does this mean?) / Send me email
Front Page / All pages by date / Site overview / Top of page